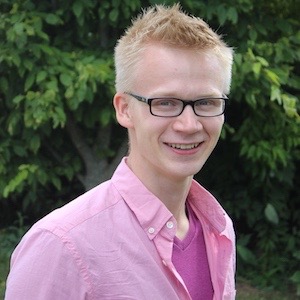 Email:

samcbart@umail.iu.edu
Major:

Neuroscience

Graduation year:

2016

Hometown:

Zionsville, IN
Sam is an IU alumnus, having graduated in May of 2016 with a BS in Neuroscience. His undergraduate focus was in Clinical Psychopathology, specifically Schizophrenia research in the Hetrick Laboratory. He entered the lab as a freshman working on Brain Electric Microstates, transient scalp voltage topographies, using Electroencephalography (EEG). During his Junior and Senior years, Sam concurrently worked in the Mackie Laboratory studying the pharmacologic role of 2-Arachidonoylglycerol (2-AG) congeners on cannabinoid receptors using Immunocytochemistry (ICC). After graduation, Sam worked in the CCNC lab as the Bloomington lab coordinator and research assistant. He worked primarily on a project investigating the understanding of speech in noise in collaboration with Dr. Gary Kidd in the IU Speech and Hearing Sciences department.
Currently, Sam is working on his Master's in Neurobiology in theKlein Laboratory at Northwestern University, utilizing immunohistochemistry (IHC) to investigate the role of Amyloid-beta Derived Diffusible Ligands (ADDL's) on Alzheimer's Disease pathology. Broadly, Sam's work and motivation can be collectively defined as an interest in the study of brain pathologies, with a focus on preventative/ameliorative outcomes.
In his free time, Sam enjoys playing video games with friends, and reading about English etymology, Greek and Roman History, and Philosophy.